About Bergsteiger Kennels
(Berg sti gur)
Means "man who lives in the mountain" in German. The perfect name for our kennel, located in the scenic mountainous state of West Virginia -- so well-known for its picturesque beauty that it's often called "almost heaven."
Our Place is Your Place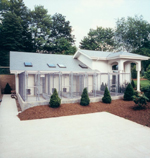 Now that you have decided to breed your Deutch-Drahthaar or Deutch Kurzhaar, you face some very personal and complex choices -- from which stud dog to choose, to how best to transport your dog to the breeder. And your concerns will run the gamut from "How will she be treated?" to "Are the facilities always clean?"
To ease your mind, we've built Bergsteiger -- a new type of kennel that acts as a home away from home... not only for your dog, but also for you! At Bergsteiger, we offer luxurious, adjoining guest quarters for the owners of dogs being bred at our facility. Finally, you have the reassuring option of accompanying your dog during breeding -- and monitoring her care.
Facilities and Accommodations
We have designed each kennel at Bergsteiger to feature spacious indoor and outdoor areas. Only the finest equipment in canine care has been installed. Every day, dogs are exercised and their kennels are cleaned meticulously. When relaxing inside, they are even able to enjoy the warmth of the sun as it filters through three separate skylights.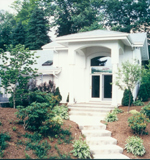 Adjacent to the kennels is our magnificent guest house. There you can live in comfort while you await your dog's breeding. With Bergsteiger's natural wooded surroundings and plush landscaped grounds, you'll feel as relaxed as if you were at an exclusive mountain retreat. (Best of all, your best friend will be right next door.)
If you are unable to accompany your dog to Bergsteiger, we have a host of services designed to assure you that your dog is being treated with the utmost care and gentility.
These include:
Airport pick-up and drop-off -- we will meet her plane as it lands and accompany her to the airport for her return trip home.
Phone calls home -- we will be happy to keep you abreast of her activities and disposition while at Bergsteiger.
Videotaping mating -- to demonstrate our care in breeding your dog, we videotape each encounter for your review.
You and Your Dogs are Very Important to Us
Many breeders will tell you to choose a kennel that has been in existence for years. We believe, however, that being a new kid on the block will enable us to be more attentive to your needs. We have an eagerness and an energy to please that you just won't find any place else. In fact, we guarantee to treat your dog with the same level of care, concern and tenderness she would enjoy at home. Just as each mating should strive to improve the breed, Bergsteiger is striving daily to improve upon the breeding process.

Index - Services - Affiliations - Contact - News - Education - Gallery
---
About the Bergsteiger Kennels Web Site
Contacting Bergsteiger Kennels
This page last updated on Thursday, July 12th, 2001